For decades, Hollywood has leaned on Tampa Bay's diverse location to serve as the backdrop for numerous movie genres. The 'Bay Area' provides scenic waterfronts, historical properties, and charming architecture that adequately lends a hand in easing the transition from screenplay to screen. There's even an entire department dedicated to attracting studios to 'The Big Guava.' 
Next year alone will see a dozen productions in places such as St. Petersburg and Ybarra City. In fact, Clearwater Aquarium CEO David Yates hopes to turn Tampa into a hub for made-for-television or cinematic ventures. 
While we wait to see more of our city on both the big and small screen, here are the seven Movies You Didn't Know Were Shot In Tampa Bay: 
Edward Scissorhands (1990)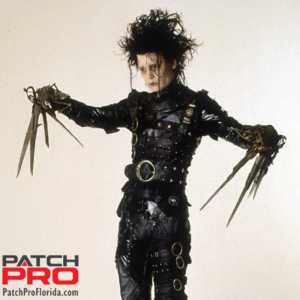 The pseudo-Christmas classic even has its own museum in the area. More than 30 years after "Edward Scissorhands" was shot, an exhibit located on the Pasco County side of Lutz is dedicated to director Tim Burton's masterpiece. 
'Scissorland' is a collection of six showcases organized inside a repurposed house that was featured in the film. The collection includes props, costumes, an original script, autographs, a crew schedule, and (of course!) plenty of scissors. Fans have also donated movie additions to the home's decor. 
It makes sense: the film was shot almost entirely on location in Tampa Bay. Besides the subdivision in Lutz, other backdrops included Dade City, East Lake, and Lakeland. 
Miss Peregrine's Home For Peculiar Children (2016)
Ransom Riggs — author to the popular young adult book series — was raised in Englewood and set most of his first novel in nearby Sarasota. 
When an adaptation was announced, there was only one place to film. 
No stranger to the area, director Tim Burton booked several Tampa Bay areas for his film adaptation. Both Pinellas and Hillsborough counties paid $100,000 incentives to the movie.
In exchange, production was obligated to spend over $2.5 million in each county and opened their production offices locally. Residents were even employed for set construction — a gig that lasted three months. 
Ocean's Eleven (2001)
Various scenes from the star-studded heist remake were shot at Derby Lane. The location has plenty of entertainment history. Mickey Mantle once shot a cigarette commercial at the track. Joe DiMaggio ditched Marilyn Monroe to wait in the car while he dropped a swift bet.
Though the oldest operating greyhound track's grandstands were formally crowded with generations of Tampa Bay residents, the passage of Amendment 13 (a ballot measure in 2018) phased out commercial dog racing in connection to wagering in 2020. Now, the oval track is abandoned, and will likely be redeveloped into a location for commercial use related to sports. Derby Lane is still open, reserved exclusively for the poker room and simulcast betting. 
A blue neon sign made specifically for the film still adorns the betting window. 
Magic Mike (2012)
This one is especially for those that have a thing for Tampa nightlife. 
Like Tim Burton, director Stephen Soderbergh has an affinity for our city. After visiting Derby Lane for select scenes in "Ocean's Eleven," Soderbergh based the entirety of "Magic Mike" in Ybor City. The renovated industrial district — located just northeast of our downtown — made up the heart of the film's bustling clubs.
The film was based on star Channing Tatum's 'Sunshine State' experience as an exotic dancer. The local Cuban enclave's historic buildings and vibrant edifice made up all the exterior shots. St Petersburg luxury housing was featured in a few scenes; Caddy's Waterfront served as the beach bar at the conclusion of the flick. 
The Punisher (2004)
It's been remade a kajillion times since it was released, but Marvel Comics' 2004 "The Punisher" adaptation was based entirely in Tampa Bay. The flick had quite a few downtown scenes, including a car chase across Cass Street Bridge. Thomas Jane's character, Frank Castle, confronted John Travolta's villain in the climax directly on Port Tampa Bay.
Though he no longer portrays the titular character, Jane still has an affinity for the killer mercenary, even attending the Gasparilla International Film Festival to commemorate the movie's local ties. 
According to a Jane interview with the Tampa Bay Times, the antihero actor said: "I remember the thunderstorms every afternoon. They were amazing. That was really my favorite part of the day filming in Tampa. The lightning and thunder were just beautiful. That's my fondest memory (of Tampa)". 
Reportedly, Travolta had a home on a private airstrip in Ocala and would fly himself to-and-from his residence every day. The travel time was reported at 30 minutes or less. 
Goodfellas (1990)
Arguably the best movie on the list, the mob classic staged a memorable moment at one very recognizable spot. A scene depicted Ray Liotta's Henry Hill and Robert De Niro's Jimmy Conway threatening a debt collector at Char-Pal Lounge on Busch Boulevard. The venue was actually owned by mob associates in the early 1970s. Things escalated quickly, and they later intimidated the man at ZooTampa, summoning jungle cats as a means to intimidate their target. Strangely enough, the lions in question were actually shot separately at Prospect Park Zoo in Brooklyn. 
Apparently, this really happened. Well, sort of. 
Tampa resident Raul Charbonier and several other enforcers (not shown in the movie) traveled to Hillsborough County to help collect a gambling debt. The Char-Pal Lounge encounter really transpired; the zoo threats were sensationalized. 
Zola (2020)
The most recent feature filmed here has also been called "the ultimate Tampa movie." A stripper's road trip through our city was shared with the world through 148 comical tweets, that were eventually adapted by Hollywood. The motels, hotel rooms, and strip clubs saw in the flick range from the Dolphin Beach Resort on St. Pete Beach and the Westshore Grand. Also featured is the truck off Interstate-4 painted with "Jesus Saves". 
The indie required the Bay's singular textures and beautiful Florida cityscapes, further emphasizing the ton of the true story.
Want to learn more about Tampa and Florida? Click Here to learn about our championship sports teams.