With house prices, fuel, and nearly every facet of American life suffering from inflation, now is as good of a time as ever to find affordable real estate. Value extends beyond property options; prospective buyers should consider the high quality of life and the cost of living as well. Fortunately, in our Sunshine State, there are several places that aren't millionaire-only communities. There are areas to enjoy the warm weather, beautiful landscapes, and stunning beaches — without breaking your budget. 
We get that rising mortgage interest rates are depressing sales of existing homes. High inflation and still-tight inventory levels are negatively affecting the Florida housing market, with fewer closed sales this year than in the previous. However, the current level of sales and prices are fairly comparable to the period between 2018-19. 
For locals in need of a home, or those migrating from the ever-growing big cities like Tampa, Jacksonville, Orlando, or Miami, here are The 6 Most Affordable Beach Towns In Florida:
1: Titusville
For those that appreciate the small-town feel, there are 24 miles of unspoiled coastline on Playalinda Beach. One of the centerpieces of Florida's Space Coast, residents can watch rockets launching, sea turtles migrating, and soothing sunsets over the surf. Space is the place in this town, including the home to the American Space Museum and Space Walk of Fame, all within close proximity to the Kennedy Space Center. 
For sight-seers, the Chain of Lakes surrounds Titusville. Packed with birds and forestry, the lakefront area encompasses 92 acres of paved, walking trails. 
Fun Outing: For the history of the last uncharted terrain, visit the Space Shuttle Atlantis Exhibit, where an actual space shuttle stack is rotated 43.21 degrees on display. 
2: Fort Pierce
Located north of Vero Beach, Fort Pierce is one of the oldest communities in our state. Named after former President Franklin Pierce's brother, it is the second-largest city between Daytona and West Palm Beach. 
Nicknamed the "Sunrise City," there are plenty of activities year-round, including a reoccurring Farmers Market, Bike Night, Friday Fest, and Jazz Market. Additionally, residents can socialize at a city-owned 1,200-seat Sunrise Theatre for the Performing Arts. 
Fun Outing: After the success of Top Gun: Maverick, expect crowds at the Navy Seal Museum, a comprehensive historical collection of artifacts, boats, and weapons located on the Atlantic Ocean Beach. 
3: Daytona Beach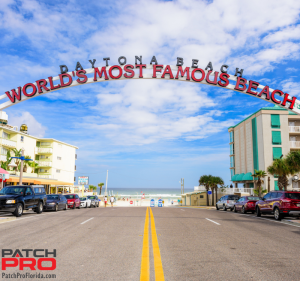 The most iconic name on this list, the Atlantic coast city, is home to the Daytona 500 NASCAR race and the headquarters for NASCAR. It's also one of the only areas where drivers can freely cruise on designated areas of hard-packed sand on "The Worlds Most Famous Beach."
Since 1902, the area has been renowned as a mecca for motorsports, attracting racing and aficionados of anything with an engine. The International Speedway has been used for concerts, festivals, and even soccer competitions. As with any town in our state, there are innumerable golf courses that stretch throughout the area. Chief among these are the Daytona Beach Golf Course and LPGA International; both locations have two courses each. 
Fun Outing: Rev up your engines for the Richard Petty Driving Experience, where you can drive a real NASCAR Race Car for a time racing session on the Nation's Premier Speedways. 
4: Pensacola
Often referred to as "The City of Five Flags," Pensacola has changed ownership several times; the Spanish, French, British, Confederate, and American flags have all flown in the city. The 50+ miles of coastline include both the Gulf of Mexico waters and the crystal clear bay areas. 
Because of the city's military heritage, Pensacola is home to the renowned Blue Angels, the officially known U.S. Navy Flight Demonstration Squadron. Spectators get to watch these jets take to the skies and coordinate in impressive formations. 
Fun Outing: For those not retired yet, the city boasts the shortest average commute time in the country at only 19 minutes!
5: Clearwater
A city located in the Tampa Bay area is a three-mile stretch of white sand and clear waters. Positioned across the coastline are numerous parks, restaurants, hotels, and much more. Chief amongst these is the Clearwater Aquarium — an ocean conservatory that houses and cares for rescued dolphins, sea turtles, sharks, stingrays, and numerous other marine life. The location also offers cruises out to Clearwater Bay hosted by a naturalist.
Those who enjoy being amateur sailors can head out to the Clearwater Marina. Additional options include Captain Memo's Pirate Cruise for the whole family to enjoy and the Yacht Starship for an intimate getaway.  
Nearby Spectrum Field hosts Spring Training baseball for the Philadelphia Phillies, including a slew of concerts throughout the year. 
Fun Outing: Sunsets At Pier 60 attracts artists, musicians, and other vendors. Gather to watch the sunset after a gorgeous day!
6: Sebastian
Nestled between Vero Beach and Melbourne, Sebastian is considered one of our country's most biologically diverse estuaries. The location is a premier fishing destination, and the waves are just big enough for enjoyable surfing. For those into sightseeing, the area is home to Pelican Island — America's first-ever National Wildlife Refuge originated in 1903. 
These waters are teeming with world-class bass and deep-sea fishing, as well as picturesque waterways adequate for boating. Legend has it that a shipwreck from the 1715 Spanish Plate Fleet discorded numerous treasures across Sebastian's coast, attracting treasure hunters combing the shoreline, searching for the gold estimated at $500 million.  
Fun Outing: An abundance of Tiki bars makes bar hopping a lot more fun!
If you're not looking to move but just want to visit some great beaches in our Sunshine State of Florida, check out "The Best Beaches In The State Of Florida."