When people think about Florida, they envision a land overrun by theme parks and beaches.
That's not necessarily the case. 
Historic landmarks in the Sunshine State date back all the way to Pre-Columbian times. There are currently 47 National Historic Landmarks in our state, located in 22 different counties. In contrast, there are currently 11 national parks locally. The first-ever Florida historical landmark was Fort San Carlos de Barrancas in 1960.
For over 60 years, Florida has ranked top 20 in historical distinctions — one of only five Southern states to have this total and above. As of this writing, there are currently 80,000 locations being considered by the National Park Service as worthy of potential recognition. 
Because the seasonal weather is getting increasingly warmer, its the perfect time to do some spring hiking, and check out The Best Historical Sites To Visit In Florida: 
Ybor City
The most famous (and infamous) cigar industry landmark is located right here in our city! The beating heart of Tampa is the only neighborhood on Florida's west coast designated as a National Historic Landmark District. 
Known as the Cigar Capital of the World, Cuban manufacturers brought their business from their home country in the latter part of the 19th century. By the 1900s, Tampa's manufacturers produced the world's highest-quality, hand-rolled cigars in the world, surpassing Havana in both sales and popularity. 
Now, the Historic District contains nearly a thousand historic buildings and structures, including nine cigar factories that still remain. Those visiting the Latin quarter can check out restaurants, retailers, and two museums: the Tampa Baseball Museum at the Al Lopez House and the Ybor City Museum State Park. 
Hemingway House
Positioned on one of the largest properties in Key West, the Ernest Hemingway Home and Museum was the Nobel Prize-winning author's residence for a decade. During that time, he wrote nearly 70% of his works, including classics A Farewell To Arms, Death in the Afternoon, and The Snows of Kilimanjaro. 
In 1928, Hemingway migrated to the "Sunshine State", where his uncle gifted him a Spanish Colonial home in disrepair. A massive restoration and remodeling turned the home into a modern attraction for bibliophiles everywhere. 
The museum is open daily, 365 days a year, and conducts half-hour tours every 15 minutes. 
Fun fact: the area is teeming with so-called Hemingway cats, most of which are polydactyl — meaning they have six toes!
Everglades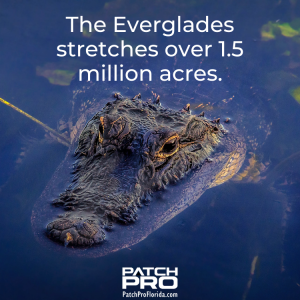 Be sure to wear your bug spray. And, opt for one of the many guided tours to avoid any unwanted encounters with any alligators, snakes, or other Florida creatures! 
The largest subtropical wilderness in the country is an unparalleled landscape stretching over 1.5 million acres. It is also the largest wilderness of any kind east of the Mississippi River.
Located on the southern tip of our state, this region is made of coastal mangroves, sawgrass marshes, and pine flat woods, serving as the habitat for hundreds of animal species. 
Situated an hour away from Miami, the swampland has been protected for generations, prompting president Harry Truman to gush: "Here is land, tranquil in its quiet beauty, serving not as the source of water, but as the last receiver of it." 
In 1934, Congress established the Everglades as a National Park. It is also an International Biosphere Reserve, a Wetland of International Importance, and a World Heritage site. 
Dry Tortugas National Park
It's the South, so Civil War-era forts could have made up the majority of this list. Instead, to simplify, we Floridians always appreciate sites that are aesthetically pleasing. With that in mind, Fort Jefferson definitely makes the cut. 
Located 70 miles from Key West, Dry Tortugas National Park consists of seven small islands, picturesque blue waters, and a strategic and masonic deepwater anchorage. During the Civil War, the harbor was meant to give ships a chance to resupply and recover from the storms. However, 30 years in the making, Fort Jefferson was never finished, but still assisted the Union in blockading Southern shipping. 
It is considered one of the nation's largest forts, erected in the 19th century. 
Lighthouses
Again, this list could have just been about lighthouses. 
There are 30 still standing tall across our state, including a dozen that visitors can enter. Across thousands of miles of coastline, residents will debate which one is the best. 
The most popular is clearly St. Augustine, the oldest in the state. Often featured in ghostly television shows (see Buzzfeed: Unsolved and Ghost Hunters), this 167-foot-tall behemoth guard Florida's oldest port. Built in 1871, St. Augustine remains an active, working lighthouse, still aiding passing vessels with its beacon. 
A fan favorite is the Ponce de Leon Lighthouse. Measuring at 175 feet, it is one of the tallest in the country. This 1887 attraction gives visitors a 360-degree view of the Atlantic Ocean — that is, if you can make it up all 203 steps and get to the panoramic top! 
The Ringling
The Ringling is home to the official art and cultural museum that defines Florida.
Boasting an alluring pink facade, this iconic Sarasota location has been enticing visitors since 1927. Originally built across 66 acres by John-Ringling, the structure was meant to house his personal collection of masterpieces. Offerings include 21 galleries featuring European paintings, contemporary art, and Cypriot antiquities. The 10,000 object showcase consists of a variety of paintings, sculptures, prints, and more from around the world. Most impressive is still the architecture; the five-story Ringing mansion features 56 rooms and 15 bathrooms.  
Or, if you're looking for something more action-adventure to do with the family, check out the "7 Best Amusement Theme Parks In The State Of Florida."