You don't have to be Irish to appreciate St. Patrick's Day. It's the celebrated (and intoxicated) holiday for beer and leprechaun lovers everywhere,
Even though St. Patrick's Day is on a Thursday this year, it doesn't mean that the Sunshine State won't have plenty of events throughout the week to honor the blessed saint! Plus,
Also, don't forget to wear green, unless you like to get pinched!
History
For over 1,000 years, Irish natives have observed March 17th as a religious holiday, honoring the death of St. Patrick. Originally, Lenten prohibitions against the consumption of meat were waived, and churchgoers would stuff their faces with protein and cabbage. However, the first St. Patrick's Day parade occurred not in its native Ireland, but in America. Right here in St. Augustine, back at the turn of the 17th century. 
Irish patriotism continued to increase amongst American immigrants, introducing celebrations that featured bagpipes, corned beef, and plenty of booze. 
Fun fact: up until the 1970s, Irish laws forced pubs close on the day. However, in 1995, due to the unrest by sober locals and waning outside visitation, Ireland abandoned their stickler rules and attracted tourism by keeping all bars open on March 17th.  
But Why The Leprechaun?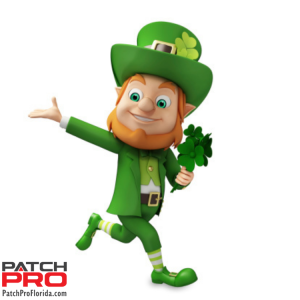 An icon of the Irish holiday is the Leprechaun, the little red-headed trickster that often fools treasure seekers to protect their fable pot o' gold. The original name for the mascot is "lobaircin", which translates to "small-bodied fellow". In Celtic folktales, they were grumpy people that were forced to fix the shoes of other fairies. Now, the dwarf folk graces everything from thematic merchandise to popular cereal boxes. 
Feeling Lucky?
Mayor Jane Castor put it best: Tampa is "ready to shamrock and roll." 
Now that you've brushed up on your holiday history, here are The Best St. Patrick's Day Happenings In Florida: 
St. Augustine Celtic Music & Heritage Festival
Celebrating its 421st anniversary is the oldest St. Patrick's Day festival in the world. Though Boston and New York are often renowned as the epicenter of Irish immigration, St. Augustine was celebrating greenback in 1601. Locals honored the Irish saint that was identified as the official 'protector' in the Spanish garrison town. 
The tradition continues this year with an exciting three-day event at Francis Field, that hosts Celtic-based bands, shopping, and an extensive whiskey tasting. 
The festivities start at Orange Street and march along to Francis Field on March 12th. 
River O' Green Festival
Each year, the Chicago River turns green with 40 pounds of powdered dye, beginning on the morning of the annual St. Patrick's Day parade. However, the color only lasts throughout the day. 
We do it better. 
Our city's annual River O'Green Festival returns to Curtis Hixon Park on March 13th. The entirety of the Hillsborough River is turned a brilliant emerald green, providing a festive backdrop for entertainment, activities, and Irish beer. 
Since the first aquatic color alternation happened in 2011, we went the last two years without dying the river due to the pandemic. 
Anyone feeling extra festive is more than welcome to dress in their best-themed garb for the Leprechaun Costume Contest. 
Winners may or may not win a pot o' gold. Or permanently shrink. 
Celebration & Sammies
Standout delicatessen Lucky Dill NYC Bar is feeling extra lucky, kissing the Blarney Stone from March 11th-17th to commemorate the holiday. 
There will be Irish music, whiskey tasting, and food imported directly from New York City. For seven consecutive days, the outdoor venue in Palm Harbor will host dozens of performances by authentic Irish musicians and pour plenty of green beer for a good Gaelic toast. 
To see a complete list of events, check out their website over here. 
Pub Crawl Shenanigans
Saying pub crawls will run rampant through the holiday is an exaggeration. Any kind of physical exertion is warned against when tackling that amount of spirits. Fortunately, the booze binges — for the sake of Ireland — will be scheduled the weekend before and after St. Patrick's. For local fare, check out the End of the Rainbow Pub Crawl in New Port Richey, Finnegan's Lucky St. Patrick's Day Bar Crawl in St. Petersburg, and St. Practice Day Pub Crawl in St. Petersburg. 
For the very best, our city hosts the fifth annual Lucky's St. Patrick's Day Pub Crawl at the James Joyce Irish Pub & Eatery on March 19th. Over 2500 are expected. Each participant will receive a green voucher for a complimentary drink or shot. Bars on the map include Ybor City Tap House, Showbar Ybor, Double Decker Pub, and many more. 
Green attire is encouraged! 
Live Music
Dating back several hundred years, traditional Irish folk music has been the soundtrack for an entire nation. Formerly an oral tradition that was passed from generation to generation by listening and learning via ear, you can hear a revival of the classical tunes once a year, in downtown Tampa Bay. Catch live performances at the St. Patrick's Day Dinner Dance Irish featuring tenor and tunes by the Bitter Sweet Band at Dunedin. Additionally, imported musicians Ben Meyer and Jesse Byers provide the soundtrack at St. Patrick's Day Festivities at the Forge.
O'Keefe's may be the most authentic of the bunch. The venue offers Irish dancers scored by bagpipers and drummers, as well as Ireland-centric tunes by the Bearded Brothers and the Irish Buskers Band. The green-themed jam session will take place all day on the holiday over in Clearwater. 
And, if you go out to celebrate, beware of "Florida Man;" he will be out in full force!