Our state sometimes goes viral for all the wrong reasons.
Case in point: "The Florida Man" sensation — an uncontrollable male force of nature that creates head-scratching, felony-influenced headlines that are always guaranteed to go viral. From hijinks with alligators, to completely creating their own laws, "The Florida Man" is defined by Urban Dictionary as "a keyword used a lot to describe all the weird news stories about random Floridians committing weird and dumb crimes, due to the state law regarding freedom of press about the fact that every police or court case must be public."
This last part is surprisingly true, in accordance with Section 119.011(12).
Or you can just Google "The Florida Man" and save yourself all that research into the Florida Department of Law Enforcement's public records.
Now that you're in the know on strange Floridian actions, here are The Funniest (And Weirdest) Florida Man Crimes:
Gator Lager
A Florida man in Palm City was arrested for trying to get a gator drunk. After the critter was caught with his bare hands, the alligator was fed a few brewskis, before promptly biting the enabler. Fortunately, the animal was not intoxicated and was released safely back into its natural habit to get home safely.
The average alligator weighs 500 pounds. It would take at least eleven beers to have an illegal blood alcohol content of .085, according to an alcohol consumption calculator we found on bodybuilding.com.
Contested DUI
A Florida man in Vero Beach had a very interesting defense for his DUI charge. The Indian River County Sheriff's Office responded to a report at a Mcdonald's, where a woman claimed a car was repeatedly colliding with her bumper.
When asked by the police how he was feeling, the offending driver claimed he was "pretty good", before annunciating this joyful proclamation with a brazen swig from his open Jim Beam bottle.
The arrest report accurately tells the rest of the story:
"He further explained that he was not drinking while the car was moving and only when he stopped for stop signs and traffic signs."
Speaking of gators, CLICK HERE if you want to find the best places to see them in Florida. But please, don't provide them with alcohol.
Man Vs. Nature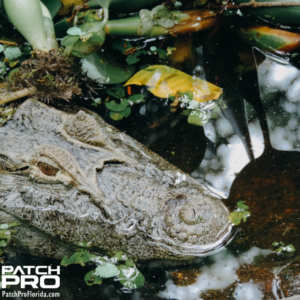 This one was universally celebrated by dog lovers that had the exact same violent sentiments.
What happened next?
Well, it's better if Mr. Tweddale tells it in his own words:
"I grabbed the dog's collar to try to pull him back and I ended up in a tug of war match with this gator and the gator was not letting go. So I let go of the collar and I got about knee-deep into the water and started pounding on the gator's head until he eventually let go."
The dog survived. Now, his owner wants revenge, going so far as teaming up with the Florida Fish and Wildlife service.
Their bait to entice the offending reptile? Roosters were raised on the Tweddale farm.
True story, We swear.
Cartwheeling From Cops
This guy flips out when the Olympics are on.
A Florida man in Orlando blocked the path of a truck by performing flips in the middle of the roadway. Officers approached the gymnast enthusiasts, but like a skilled streaker at a sold-out sporting event, scrambled from their clutches, performing cartwheels in his escape.
Now, I don't know too much about fleeing the law, but cartwheeling to freedom doesn't sound like the most efficient method.
The viral video shows the guy wearing way too tight pants, broken shoes, and what looks like a crop top, performing acrobatics.
I'm sure he thought he was killing it; instead, he looks like the most uncoordinated buffoon auditioning for the Orlando Magic dance team. The Orange County police promptly arrested him before his third cartwheel.
Segway DUI
A Florida man in Polk County was arrested for riding a Segway. Yeah, you heard me right… the discontinued, two-wheeled nerd-mobile.
After the 48 year old consumed two bottles of wine, he promptly rode the goofy transporter right outside a sheriff's office. The rider maneuvered the Segway into the middle lanes of impeding traffic, was arrested, and posted a breath sample of .243.
The Polk County Sheriff's Office had fun with the man's vehicular faux pas, releasing the following statement on Facebook:
"You've heard about driving while intoxicated on a horse, on a tractor, a bike, and even a riding lawn mower. Here's one…"
Cathouse
Say what you will about Florida men, but it can't be denied that they don't love their animals.
A Florida Man in Emerald City was arrested outside of a strip joint for attempting to smuggle in his kitty.
No, that wasn't a skillfully concealed euphemism
After Everett Lages tried to enter the Emerald City Gentlemen's Club with his favorite feline, he was refused entry. He then promptly called 911. When deputies spoke to Lages, he appeared intoxicated, and refused a taxi. Charges included: misuse of the 911 system, disorderly intoxication, trespassing after warning, and resisting arrest without violence.
No word if the cops cuffed the cat.
Gator Drive-By
Those poor reptiles. This is the third time that the Florida unofficial mascot will make our list.
A Florida man in Jupiter flung an alligator into a Wendy's drive-thru window. After finding the reptile on the side of the road, the man ordered a drink from an employee, before paying by tossing his curbside find into the restaurant. Obviously, in the Sunshine State, alligators are not currency, so he was arrested for this strange form of payment.
To a local television statement, the offender's mother claimed:
"It was just a stupid prank that he did that's now turning into this; it's stupid. He's a prankster. He does stuff like this because he thinks it's funny."
Following his offense, a judge — who could have been a former Florida man himself — prohibited the accused from visiting Wendy's, touching people's dogs, and banned any possession of guns.
Looking for more humor? CLICK HERE to read about some of the worst DIY projects of all time.