Without a doubt, Florida is a theme park mecca — the world's most popular destination for thrill-seekers and families alike. From heart-stopping attractions, to kid-friendly happenings, the Sunshine State has plenty to offer for any demographic. The state allows an opportunity to interact in worlds once reserved for the big screen or restricted to the binding of a book, springing from these mediums to real-life locations. From Kissimmee to Winterhaven, and the more popular locations of Orlando to our favorite city Tampa Bay, there's a theme park to draw the attention of any guest. 
Established in 1936, Florida opened Cypress Gardens, the state's first-ever commercial tourist theme park. Since then, the state has hosted a billion visitors annually. 
Because of our fabulous weather, these attractions in Florida are a year-round draw. 
So put on your shorts, maybe take out an umbrella, and definitely bring some shades to visit the Very Best Theme Parks In Florida. 
Walt Disney World
You're thinking: no duh! Let's get the most obvious theme park out of the way first.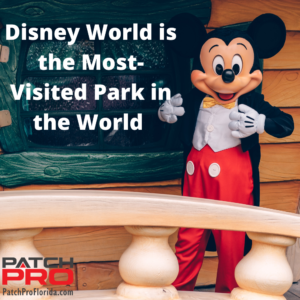 Technically, Walt Disney World is composed of four separate theme parks and two water parks, but to maintain the integrity of this list, we'll compress it all into one. 
Over the last two decades, Disney World consistently ranked as the No. 1 most visited park in the world, boasting several million more guests than the next closest competitor. Opened in 1971 — 50 years ago this year — the 25,000-acre location provided cheap land to the House of Mouse, giving access to the Magic Kingdom to visiting guests primarily located in the East and South. 
Though it wasn't the first commercial tourist theme park — that illustrious title belongs to the aforementioned Cypress Gardens — it was by far the Sunshine State's biggest, providing a crucial economic boom and employing over 77,000 workers. 
Universal Orlando
Following the success of their competitor Disney, Universal Studios decided they wanted a piece of the pie in Orlando. Opened in 1990, the aptly named Universal Orlando brought the big screen to life for their fans. Popular titles such as "Jurassic Park," "Back To The Future," and the addition of several Marvel titles held thrill-seekers over for a time. 
The turn of the century saw Walt Disney World pulling away as a tourist draw, forcing Universal to cast a couple of spells. 2010 introduced The Wizarding World of Harry Potter, an exact replica of several locations created in J.K. Rowling's beloved book series. 
Fun fact: touring the original Universal Studios in the early 20th century cost a quarter for admission and lunch. Unfortunately, the price has gone up considerably for the theme park since then. 
Busch Gardens Tampa Bay
No Florida amusement park is complete without our very own Busch Gardens Tampa Bay. 
You can't mention some of these daredevil attractions and not lose control of your nerves. Get in line for Tigris, the state's tallest launch coaster. Then, while you barely still have your meddle, try the Iron Gwazi, the world's fastest and steepest hybrid roller coaster. If you're a masochist and that's not enough, Busch Gardens is also home to a triple-launch coaster, a ride that is floorless and 200-feet-tall, and the state's only family spin coaster. 
Busch Gardens Tampa Bay isn't just limited to gravity-defying attractions; kiddos can find their fun at Sesame Street Safari of Fun, replete with plenty of age-appropriate rides and attractions. Animal lovers can check out the large zoo facilities.
LEGOLANDO Florida
Located in Winterhaven, here's another one for your kids. 
Nothing quite sparks the excitement and imagination of children as LEGO — the beloved building block brand that's been around since 1932. That's a ton of generations obsessed with the best-selling toys. 
LEGOLAND Florida unites aspiring builders with 50 rides, interactive shows, and other brick-based attractions inspired by the popular brand. The destination geared toward youngsters is also the youngest park on our list, opening ten years ago this year. A multi-territory licensing agreement with Hasbro was announced this year, green lighting a half-acre Peppa Pig theme park due next spring. 
SeaWorld Orlando
The holy trinity: finishing the location of the theme park capital of the world is SeaWorld Orlando. A top ten visited location of the United States was the third and final SeaWorld chain opened in America. 
The aquarium-meets amusement park franchise flooded Florida in 1973, combining both animal shows with roller coaster thrills. 
A highlight of the location: the Kraken, the area's tallest and only floorless roller coaster, peaks at 140 feet and extends to 65 miles per hour. 
Due to the decade-long controversy surrounding the expose documentary "Blackfish," the park has shifted its strategy to emphasize their rides, with new constructions planned for the next several years. First up will be the Ice Breaker in February 2022 — a launch coaster with a 93-foot vertical drop at a 100-degree angle. 
Fun Spot America
Though it doesn't have the brand name power as others on this list, Fun Spot America is just as fun! Home to 18 family and thrill rides, this Kissimmee staple is home to the world's tallest SkyCoaster (that towers over the park at 300 feet) and Mine Blower (the only wooden coaster in Florida with an inversion). The park also features a signature multi-level go-kart track and a 10,000 square foot arcade filled with a variety of current and classic titles.
Adventure Island
We've spent so much time on thrills-and-chills above land. How about the ones underwater?
Open year-round with heated pools is our favorite local water park: Adventure Island. Located right across the street from Busch Gardens is 30 acres of water-drenched fun in the sun, providing a tranquil setting for guests of all ages. 
The Key West atmosphere includes private cabanas, VR snorkeling, and two all-new water slides arriving in 2022. Additionally, Adventure Island is the biggest water park in our city. 
Looking to do something more low-key in Florida? Visit one of the 6 Most Famous Lighthouses in Florida.