The stars are usually out, day and night, here in Tampa Bay! 
Though our city is known mainly for its award-winning beaches, historic cigar industry, Cuban sandwiches, and professional sports championship prowess, it's also an origin point for several celebrities, across all entertainment fields. Thanks to the warm and tropical climate, the waterfront property is plentiful. So is the appeal of no state taxes! 
Here are the Top Celebrities That Are From Tampa Bay, and a few that were incentivized to move here too!  
Matthew Stafford (Tampa)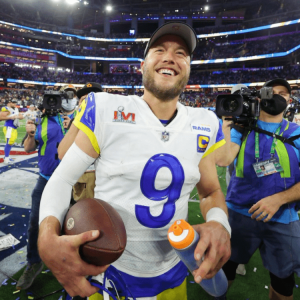 After wasting his time with the Detroit Lions, Matthew Stafford went on to win a Super Bowl in his first year with the Los Angeles Rams. Born in our city, Stafford went on to play high school football in Texas and attended college in Georgia. 
In this year's playoffs, Stafford triumphed over his hometown team, besting the Tampa Bay Buccaneers on his way to an NFC Championship berth. 
Over the offseason, Stafford agreed to an extension. Meaning, that he can get a house neighboring his NFC rival Tom Brady locally, if he wants. 
Bert Kreischer (St. Petersburg)
He gives a whole new meaning to "belly laughs." 
The robust comedian that never wears a shirt (aka The Machine) derives from St. Petersburg. Growing up, he stayed local, attending Jesuit High School and Florida State University. 
In 1997, while partying his way through his undergrad, he was featured in a Rolling Stone article that named him "the top partier at the Number One Party School in the country." The article went on to inspire National Lampoon's Van Wilder. 
As well as performing several stand-up specials on Comedy Central, Netflix, and Showtime, Kreischer is the host of numerous popular podcasts and television shows.  
Sarah Paulson (South Tampa)
The current scream queen started practicing her shriek locally. After her parents separated, Paulson relocated to New York City, where she practiced her craft, though she still returned to South Tampa during the summers. 
Her career has now spanned nearly three decades, accumulating seven Emmys, five Golden Globes, and two SAG Award nominations for roles in both television and film. She has also appeared in four Broadway plays. 
While primarily known for FX anthology series American Horror Story, Paulson will bow out of the show after ten seasons.
Tony La Russa (West Tampa)
The baseball mastermind learned everything he could about the diamond here and in nearby Ybor City, where his parents had met while working at a local cigar factory. After graduating Jefferson High School, La Russa joined the Kansas City Athletics as an infielder, under the condition that they pay for his college education. 
Although his playing career lasted a little over a decade, La Russa has been a manager or an executive since 1979, including coaching stints with the Chicago White Sox, Oakland Athletics, and the St. Louis Cardinals. As a manager, he's won three World Series championships and four Manager of the Year honors. His number is retired by the St. Louis Cardinals; he belongs in both the Cards' and Oakland Athletics Hall of Fame. 
Though still involved in the game, he was inducted into the National Baseball Hall of Fame in 2014. 
Aaron Carter (Tampa)
Due to his domestic violence and dwindling mental health, he's not the most popular person to come out of our hometown. The heavily tatted singer used to be a heartthrob, converting his brother Nick's boy band success with Backstreet Boys into his own tween solo career. 
Hits included "I Want Candy" and "Aaron's Party (Come Get It)". 
Carter's star shone bright and then swiftly petered out, resulting in several D-List affiliated appearances that were marred by legal troubles, marring his personal life over the last decade. 
Luis Gonzalez (West Tampa)
One of the best hits in MLB history was swung on by a native resident. The baseball great, affectionally known as "Gonzo" was a baseball left fielder for 19 seasons and played for seven different teams. 
Growing up in West Tampa, Gonzalez graduated from Thomas Jefferson High School, eventually getting drafted by the Houston Astros in the fourth round. 
He's most known for his seven seasons with the Arizona Diamondbacks. His game-winning dinger against the New York Yankees in Game 7 of the 2001 World Series earned the D-Backs their first and only World Series championship. 
Arizona retired his uniform number, making him the first player ever honored by the organization. 
Jordan Clarkson (Tampa)
Although raised in San Antonio, the reigning Sixth Man of the Year came out of the Sunshine State. The Filipino-American was selected in the second round by the Los Angeles Lakers, earning NBA All-Rookie First Team honors after spending time in the D-League — a rarity for the game. 
After a stint with the Cleveland Cavaliers that saw Clarkson compete in the NBA Finals, he ended up getting traded to the Utah Jazz, where he earned Sixth Man of the Year honors last season. The backcourt competitor currently competes for the Philippine national team during FIBA play. 
Other Celebrity Sightings
Have you walked into Tom Cruise at a Sprouts? Or maybe John Cena… if you could ever see him. 
Several celebrities claim our town as their home as well. Guardians of the Galaxy star Dave Bautista can be seen dressed up as a pirate during the 2020 Gasparilla Parade of Pirates. Tom Brady has a palace on Davis Islands, purchasing the property from Derek Jeter. Best-selling horror author Stephen King haunts Sarasota. Several former wrestlers, including Chris Jericho and Hulk Hogan, practice their stunts in the area as well.