Every state is known for something specific. 
California has Hollywood. Colorado has ski slopes. Nevada has casinos. When it comes to our "Sunshine State," the offerings are so widespread, it's hard to really pin down what makes us notorious nationally. Sure, there are the retirees, beaches, and the infamous "Florida Man." 
Fortunately for us, outside of the negative press we often receive, from the Panhandle to the Keys, each region is rife with innovation. 
Here are the Top Things You Didn't Know Came From Florida:
Key Lime Pie
It's impossible to explore our state without having a sweet tooth for this Key West favorite. Every restaurant in the "Sunshine State" offers dessert. Additionally, any family native to the area will claim they have a recipe that is the authentic version. Despite all the iterations of the dessert, this sweet and tangy pie is always made using sweetened condensed milk and limes, no matter what. 
The regional dish was baked by a cook simply known as Aunt Sally. In the late 1800s, she made the delicacy for Florida's self-made millionaire William Curry. Some historians believe Aunt Sally didn't create the pie but perfected a dish already made by local fishermen. The theory: Aunt Sally knew how to make a lemon ice box pie, but didn't have the fruit available. Instead, she used local key limes on hand. 
It wasn't until the 1930s that the recipe was put on paper. The end of the century saw the Florida State Legislature officially recognize Key Lime Pie as an important symbol of our state. House Bill 453 and Senate Bill 676 made the Key Lime Pie the official Florida state pie. 
Famous Amos
Here's a cookie brand with some music history. 
Wally Amos, Jr. was born in our state, worked his way to New York, and eventually became the first black talent agent in the industry. Under the William Morris Agency's rock n' roll department, Amos famously signed Simon and Garfunkel. 
Disillusioned with show business, Amos baked cookies using an aunt's recipe, to alleviate stress.  Because his aunt remained in our state all her life, the recipe was conceived while baking locally.  Music and/or movie company executives soon began munching on the dessert during meetings hosted by Amos. The same year, Amos became a cookie entrepreneur, selling $300,000 cookies in its first year. 
Clueless about the new industry he had entered, Amos sold his share in the company for a minuscule amount. It has since been sold to Kellogg, followed by Ferrero SpA — the maker of Nutella and Butterfinger. 
Gatorade
Okay, maybe this one is a no-brainer. The origins of the sports drink are clearly spelled out in the name. 
After watching his players endure extreme hydration, University of Florida assistant football coach Dewayne Douglas met a group of scientists on campus to determine a solution for those negatively affected by the heat. The team came up with the infamous sports drink. 
At first, the beverage was so disgusting, that some athletes puked after consuming it. Douglas' wife suggested adding lemon juice, leading to the first flavor in the beverage's history. The recipe was tinkered with, and quickly popularized by collegiate sports. 
In 1983, Quaker Oats Co. purchased the company. With their vast marketing resources, Quaker Oats was able to quickly secure more than 80% of the sports beverage market. PepsiCo now owns the brand, which eclipsed $1 billion in revenue in 2015. Additionally, since 1973, Gatorade has brought more than $80 million to the university. 
Bondo
This polyester putty product's roots was firmly embedded in WWII history. Developed by veteran and automotive repair shop owner Robert Merton Spink, the body solder was used during wartime to repair large imperfections prior to painting vehicles. After the victory by the Allies, hot soldering was no longer considered practical. Instead, 'plastic solder' was a simple, do-it-yourself solution to panel beating. 
Consumers were stoked by the reasonable prices and long-lasting repair. 
Bondo is a two-part mix of talc and plastic. It's a best-seller at every hardware store, from Home Depot to Lowes. After originating in Miami, Bondo was acquired by 3M in 2007. 
Publix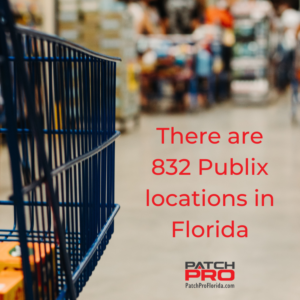 Come for your groceries, and leave with the subs. 
The Southern store staple has now been around for 92 years, expanding into seven states with more than 1,200 locations in operation. The first Publix store was opened in 1930 in Winter Haven. It took another decade for the store to be expanded into a supermarket. 
By the end of the decade, there were 20 locations. The first distribution center was constructed in Miami; the infamous Delicatessen department began slinging meat in the following decade. Currently, there are 832 Publix in the state of Florida. 
As of their Q4 earnings last year, the private company values itself at about $45 billion in a quarterly assessment of its shares. 
Streaking
If you have ever heard the stereotype of the "Florida man" or have ever gone to a Spring Break in South Beach, you know public nudity is commonplace in our state. Countless universities claim responsibility for the phenomenon. However, Florida State University was eager to bare their backsides to the "Sunshine" in "Sunshine State" — one of the first to do so. 
Local legend has it that the naked shenanigans began late in the afternoon of January 15, 1974, when three male students bared down near Tully Gym and sprinted across the tennis courts. Shortly after, small groups of both genders would spontaneously remove their garments, and gallivant around Tallahassee, day or night. Like a virus, it began spreading to other college campuses, infecting youths with a sudden acquisition of independence from their parents.