Drywall Repair, Wall Patching, and Texture – Florida
Drywall Repair in Hillsborough County, Pinellas County, Pasco County, Manatee County, Polk County
Tampa, Riverview, Apollo Beach, Ruskin, Gibsonton, Brandon AND BEYOND!
Like It Never Happened!
We don't just repair your damaged walls and ceilings, we professionally repair them following our specific process to make the drywall repair appear as if the damage never happened.




FREE DRYWALL
REPAIR ESTIMATE
It's SIMPLE! We don't need to come out for an estimate. Just complete the form and we'll get back to you for any additional needed details and pictures. It's that easy!
Proud to be one of the best drywall repair contractors in Florida!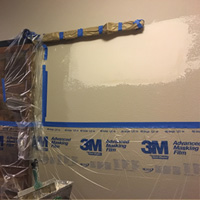 Drywall Repair
Patch Pro provides simple drywall repair services to customers across Tampa, Riverview, Apollo Beach, Brandon, Hillsborough County, Pasco County, Manatee County, Polk County and Pinellas County, St. Petersburg, and beyond. We make it easy to get your drywall holes, blemishes, and wall damage repaired, at a great price.
Need Florida drywall repair? Get started on your project right away!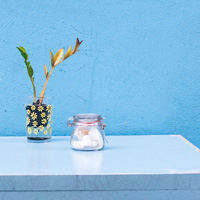 Wall Texture
Patch Pro provides drywall texture services also. We can match existing wall textures in your home to a new wall that has new drywall, or we can texturize a wall in your home and make it a design feature. We offer many textures, styles and finishes for your drywall and we make it easy and affordable.
Are you ready to talk about your project?
Our Current Service Areas By County
Currently covering most of Hillsborough County, Pinellas County, Pasco County, Manatee County, and Polk County
Drywall Patching, Texture and Wall Repair Service:
PatchPro Florida does drywall repair and patching. We are currently servicing the greater Tampa Bay area, St Petersburg, Pinellas, Pasco County, Manatee County, and Polk County.
Our Current Florida Drywall Patch And Repair Service Areas Include:
Apollo Beach, Brandon, Clearwater, Gibsonton, Riverview, Ruskin, St. Petersburg, Sun City Center, Tampa, Valrico, Wimauma
We're proud to be known as one of best drywall repair contractors in the area, and that's what our customers say!
Excellent service, professional, responsive, and reliable are how I describe them. They did a superior job and I highly recommend them for all your drywall needs.
~Beth B. – Apollo Beach, FL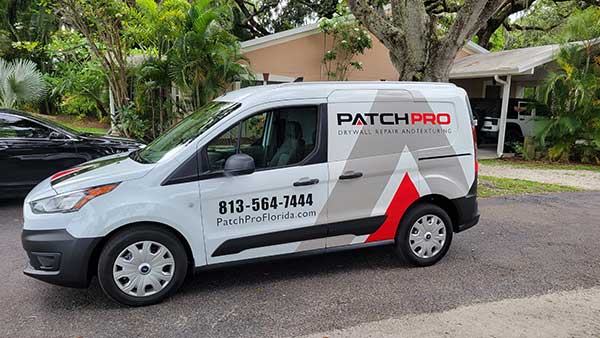 Mobile Wall Repair
PatchPro makes it simple. We come to you with our mobile drywall repair vans and repair your wall damage good as new in one visit. From removing the damage, patching the hole or crack, repairing and finishing with the matching texture. We can even paint the repair for you while we are there. When it comes to wall damage repair and texturing, PatchPro does what we say we will do, we arrive on time and get the job done!
Get your free drywall repair estimate.
Great all around job. Local technician that was extremely helpful and even gave good tips on how to paint over the repairs.
~David K. – Apollo Beach, FL
…Very glad to have found PatchPro. Will use in future if I ever need. Thank you again!
~Kat B. – Riverview, FL
Need A Wall Repair Patch?  We're A Drywall Repair Company!
It's what we do. And we do it very well.